Storage Units In Mohegan Lake
Mohegan Lake Self Storage units near me make it easy to remove the clutter from your home or office. We're a gold key storage facility with convenient locations throughout Westchester County including our Mohegan Lake Self Storage location. So whether you prefer to discuss your moving and storage needs over the phone or in person, we have a team of highly trained, dedicated professionals standing by ready to assist you. You'll find, as many other renters have, that our pleasant and well-mannered professionals stand above and beyond our competition. As a family owned and operated company, it's a key differentiator we welcome you to experience for yourself. Give us a call (914) 528-5612.
What Makes Mohegan Lake Self Storage A Gold Key Local Facility?
We Restrict Access To Our Storage Units
Unlike other storage companies, access to your mini storage room is restricted to you. Regardless of whether you purchase a lock from Mohegan Lake Self Storage or provide one of your own locks, you're the only one with the combination or key.
There are a few reasons to consider purchasing one of our locks:
Our locks are easy to use
You'll never have a problem opening or closing them
Our locks may help you qualify for our tenant protection plan (ask us for details)
Energy Conservation Initiatives
Wherever possible, we've installed energy efficient lighting throughout our facilities. We've added motion-sensor lighting to turn hallway lighting on only when needed. High-density illumination throughout the hallways provides an energy efficient way to light our rooms and hallways. This helps us keep our costs down and doing so enables us to keep our unit pricing competitive.
Easy To Read Unit Numbers
All of our Westchester Self Storage rooms are numbered for easy identification so that you can find your room quickly.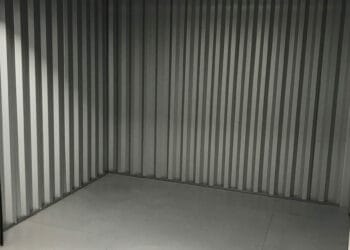 Steel Construction To Keep Your Belongings Safe And Secure
Our mini-storage rooms are constructed to keep your belongings safe and secure. The units are constructed with steel and concrete. They were designed to remain clean and maintenance-free. Our "easy glide" roll-up doors provide easy, one-person access. Once inside, you'll see the simple design that joins the steel walls to the concrete flooring, creating the near perfect environment to keep your items safe over an extended period of time.
Family Owned And Operated Since 1997 
Our first self storage facility opened in Bedford Hills back in 1997. We remained a family owned and operated business ever since. Today, we've grown to a network of more than a dozen convenient mini storage locations throughout Westchester County.
Unparalleled Self Storage Experience
Our storage expertise was gained over years of helping tenants declutter their homes and offices. For more than two decades, our team has helped Westchester business owners, homeowners and renters move into a self-storage unit with far less stress and aggravation. There's rarely a situation or circumstance we haven't encountered many times before. That knowledge isn't something we reference from a training manual, it's advice and guidance that we can only extend to you based on years of hands on experience. Call us and let one of our specialists help you 
(914) 528-5612

.
Getting Started With Few Storage Unit Rental Tips
Renting Self Storage Units From The Comfort Of Your Home Or Office
We make it easy to rent a storage unit from the comfort of your home or office. This eliminates the need visit one of our facilities. Thousands of Westchester residents and businesses over the years have selected their storage unit over the phone, without the need to visit in person. Those that secured their storage units over the phone were often surprised at just how quick, painless and easy the process actually was. Our staff has the experience and training to help you with the process of renting a mini storage room, sight unseen, over the phone.
We Simplify Things And Eliminate The Confusion
Asking you a few simple questions helps us accelerate the rental process.
What will you be storing?
When do you need to store it?
How long do you plan to keep it in storage?
Your answers help us present the best options available to you. Depending upon what you're storing, we may recommend a climate controlled unit. A temperature and humidity controlled room provides the best protection for your irreplaceable items, clothing and delicate fabrics. We'll provide a few different options based upon how often you plan to access the room, how long you'll need the unit and your budget. A particular unit configuration is sometimes required when storing certain items, such as equipment or furniture. We offer a 
Door-To-Store
service as an option to get your belongings to our facility. A quick call can help you secure a mini storage room and transportation in less than 10 minutes.
Tips For Visiting Our Facility
Schedule An Appointment In Advance
If you would like to speak to a self storage advisor without having to wait our advice is to schedule an appointment in advance. You can do so by giving us a call.
Take An Inventory Of Your Belongings
Having an inventory of your items before storing them is a very important part of selecting the most appropriate unit. Preparing a simple list and bringing it with you helps speed the process significantly, saving you time and money. Our specialists can work through your list with you to make suggestions and provide you with unit availability options.
Planned Storage Term
One of the questions we have for new tenants is how long you'll need the unit for. Certain items don't store well in standard units over extended periods of time. We can make recommendations based upon what you're storing and how long you'll need to store it. Most people don' think about the effect seasonal temperatures can have upon items you place in storage. Is your planning flexible?  We tend to have a number units available at any given time, but different times of year effect unit availability. The more flexible you are, the more options you'll have.
Accessing Your Storage Room
Some things to consider when selecting a unit include:
How frequently do you need to access it?
What times of day do you plan to access it?
Would a drive up exterior unit work best?
Could you save some money with unit on the 2nd floor?

 
Climate Controlled vs Standard Self-Storage
Climate-Controlled Units
Climate controlled storage
 keeps your items stored in a controlled environment with a moderated temperature and humidity.
Standard Units
Standard mini-storage units are best for saving money when the items being stored don't require climate control.
Door-To-Store A Unique Westchester Self Storage Service
Our 
Door To Store Service
is an option that helps get your items from your house or office to our one of our facilities without you having to arrange the move yourself.
Security Precautions
The security of a
self storage facility should be a top-of-mind selection criteria. W
e view security in two ways: (1) restricted access to only the tenant (2) securing our facility's perimeter, at the gates, inside the corridors and office.
Lighting
We installed energy efficient lighting inside and outside the facility. Making it as easy as possible to find your way around our facility, both inside and out, Is very important to us. Part of our regularly scheduled maintenance includes 
replacing broken bulbs and switches. We've installed motion detectors which illuminate corridors in a way that is energy efficient.
Maintenance
Each one of our more than one dozen facilities is clean and well maintained.
Closed Circuit Surveillance Cameras (24/7 Monitoring)
CCTV cameras have been installed throughout our facility. The system provides 24/7 monitoring of the outside, inside, office and entry gate.
Exterior Fencing
The exterior is fenced to deter unwanted visitors.
PIN Authorized Access
Our gate access is controlled through the issuance of individual PIN number unique to each unit. Our staff monitors gate access during business hours and via our CCTV cameras 24/7.
Storage Locks
All Westchester Self Storage facilities provide tenants the option to purchase their own lock that provides tenant protection plan eligibility. Since you're the only one with the key or combination, access to each unit is restricted to the tenant.
Storage Units Tenant Protection Plan
Mohegan Lake Self Storage
 provides an optional tenant protection plan that may cover damage to your belongings in the event of a variety of unforeseen circumstances. Your advisor can discuss eligibility and coverage options with you.
Self Storage Units Come In A Variety Of Different Sizes
Our self storage units are available in many different sizes and several different configurations. We have over 40 different room shapes and sizes to accommodate your needs and budget.
Storage Unit Near Me Size Selection 
Most facilities rent you their available storage units. That's based simply upon their availability. They don't care about meeting your needs. Often times the result is that the unit is more than what you need. This process ends up costing you more each month than's necessary. We approach things very differently. We find the perfect size unit for you. And we match that need with our available inventory. For more information please get in touch with our expert personnel to best guide you for all your storage needs call 
(914) 528-5612
Downsizing's and Urbanization In Metro NYC and Westchester – Its Impact Upon Local Self Storage
Urbanization has expanded in
Westchester
 county. 
Manhattan
too expensive for many Westchester residents to consider. More densely populated areas, such as the
metro NYC area
 have become more commonplace. As a result of these factors, more people turn to self storage options outside of their home.
Visualizing A Storage Room's Capacity
Using a tape measure, create two directly connected '5×10' areas. Doing so establishes a 5'x10' and a 10'x20' area. Marking them off with masking tape or painters tape.
Place everything into the taped off areas. Definitely stack items, since that's what you'll be doing inside the storage unit.
7 Ways To Best Optimize Storage Units
FIND THE PERFECT STORAGE UNITS TODAY
Our Team Is Standing By Ready To Assist You